Discussion Starter
•
#1
•
I do not want to spread panic amongst you Guys but there is now a vast amount of critical comments on this subject - hope this is of interest as it can affect All - Dave
The EU Directive 2006/40/EC requires that all new Type-approved vechicles from 1st Jan 2012 are able to use a re-frigerant with a global warming potential less than 150.
The first vehicles that are using R1234yf are on the roads now : these include, but are not limited to: Mercedes B-Class / Mercedes SL / Hyundai i30 / Hyundai Santa Fe / Kia C'eed / Subaru XV / Subaru Impreza / Toyota Prius + MPV
Mercedes have decided to return to R134a on the A / B / CLA / and SL Models due to the safety problems of fire when tested. The German Car Magazine "Autobild" reported this hazard first in 2009 and then showed a video in 11.2011. ( see this video on the attachment below). Now also Toyota have stopped using the R1234yf on the Sports Model GT86 but the Subaru BRZ is still using this although this is basically the same car. Opel (GM) are using this on the new small SUV Mokka Model since March.
How do you know if the system is using R1234yf ? : Some, if not all, compressors are capable of using R134a or R1234yf which is why manufacturers have been able to continue with R134a until sufficient supply of R1234yf is available. There are various compressor labels but the second one is what is on our 2011 Juke (under the Hood front left side) which is the older safer re-frigerant.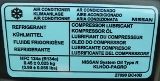 R1234yf is heavier than air and flammable, so if there is a likelihood of this refrigerant leaking the area should be ventilated so it cannot gather which would increase likelihood of asphyxiation or ignition. Hydrogen Flouride Colorless Gas – highly toxic but non-flammable.
R134a is not compatible with an R1234yf system and cannot be substituted as it does not meet the directive requirements.

EPA nominee to get tough questions about why she approved new car air-conditioner refrigerant that caused ENGINE FIRES in Mercedes-Benz tests | Mail Online